Workshop with camera traps




Are you interested in testing photography with camera traps? Now you have the chance when we start workshops exclusively for one participant at a time. During the period 27 May - 5 June, we focus the camera traps on Brown bear and Lynx. We walk into the wilderness, in hilly terrain with real old forest rich in biodiversity. Maybe we also take the canoe to be able to quietly look for e.g. Moose, Black-throated Diver, Beaver or anything else that gets in our way. We also use telephoto lenses for landscape photography etc.

In the autumn period 1 - 10 October, we focus on Golden eagles and Siberian jay instead of Bears and Lynx. The beautiful autumn colors form an effective background and are well suited for landscape photography. In clear weather there are good opportunities to photograph the starry sky and the Milky Way; with a little luck even the northern lights.

Duration: 10 days Number of participants: 1 person Price: 5990 Skr / day.
Included: loan of two camera traps + two cameras, accommodation, meals and transport.
Dates: 27 May - 5 June 2021 and 1 - 10 October 2021.

All photos taken with a camera trap: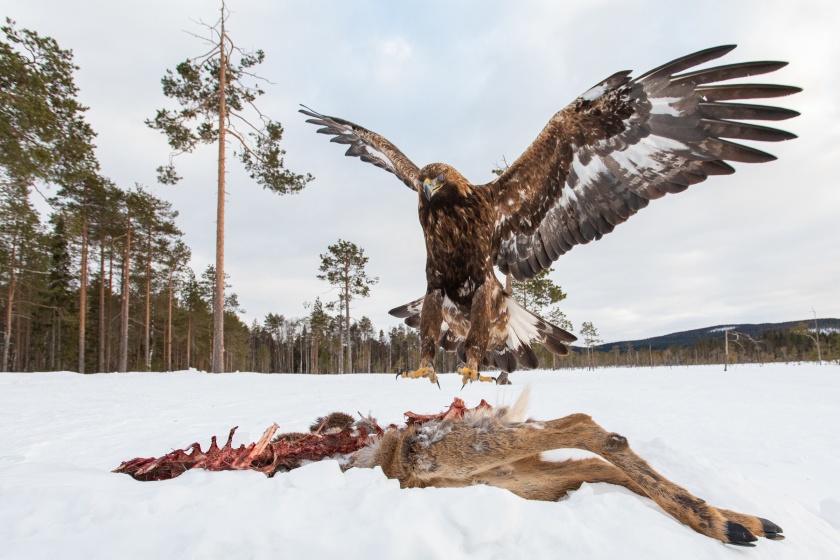 The winter has been snowy and cold, which has made it difficult for the Roe deers to survive. One of those who died, I placed at the photo hideout and it became food for e.g. Golden eagle, Goshawk, Black Woodpecker, Grey-headed woodpecker and small birds like tits. During the winter, carcasses are very important to wildlife and birds, from the largest to the smallest. A carcass can mean the difference between life and death for many individuals. It is the law of nature: a case of one animals loss being another´s gain.
The equipment can be placed outdoors for a long time and in harsh conditions.